Chalene Johnson started studying dance and martial arts at age 3. She continued training in tae kwon do, dance, and aerobics while studying at Michigan State University. After moving to California in the early 1990s, she created a group exercise class that combined the sexiness of dance, the hip feel of funk, and the power and strength of kickboxing. In 1997, Chalene began teaching other instructors how to deliver her unique brand of fitness, and in 1998, Turbo Jam® was born. Today, it's one of the most popular in-home exercise programs in the country.
When she reached her late 30s, though, Chalene started noticing that her body was not quite responding to her standard exercise program. So she started researching, poring over the latest scientific studies to figure out the best methodology for creating and keeping a long, lean, and sculpted physique. The solution could be summed up with three simple words: MUSCLE. BURNS. FAT. The program she put together became ChaLEAN Extreme®, a 3-phase system focused on resistance training. People of all shapes, sizes, and ages in the test group got astonishing results, losing up to 60% of their body fat in just 90 days.
A happily married mother of two, Chalene has appeared in over 80 exercise videos and continues to contribute her knowledge and expertise to leading health and fitness publications. In 2006, 2007, and 2008, Chalene was voted one of the three finalists for Instructor of the Year by the IDEA Health and Fitness Association and was selected as their Inspirational Speaker for the IDEA Fusion 2007 convention. Chalene regularly appears on TV as a fitness expert on such networks and programs as QVC, E!, The OC Body, FOX 11, and Better Bodies.
Chalene's best selling home fitness programs Turbo Fire™, ChaLEAN Extreme™, and Turbo Jam™ have sold over 10 million copies.  While filming these and many other fitness videos, Chalene was proclaimed the Guinness Book of World Records holder for the most fitness videos.  In addition, her live fitness classes – Turbo Kick™, Hip Hop Hustle™, and PiYo™ – are featured in thousands of top health clubs across the globe including industry giants 24 Hour Fitness, Gold's Gym, and YMCA's.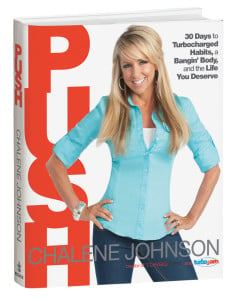 A best-selling author, Chalene combined her passion for helping others live fuller, more balanced lives, with her passion for fitness in her New York Times Best-Seller Push: 30 Days to Turbocharged Habits, a Bangin' Body, and the Life You Deserve.  In Push, Chalene shares her secrets for success in living according to your priorities, selecting and achieving fulfilling personal and fitness goals, bringing happiness and balance to your life, and creating the life you truly want and deserve.
Chalene is also the founder of personal and business development programs and million dollar Internet Academies including SMART Success Academy and Impact Academy where she shares what she has learned to help other business owners created even greater success and more balanced lives.